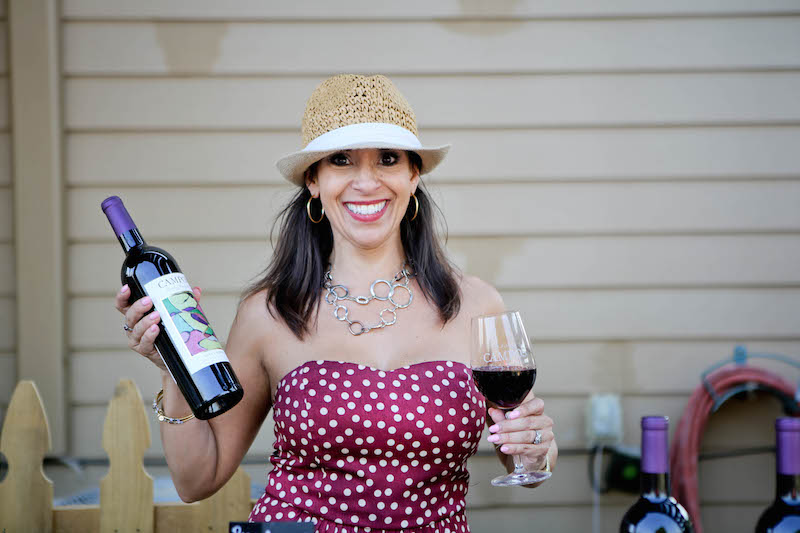 Our staff is our family and we invite you to get to know them. This week's featured employee is Ginamarie, read about her  below and visit her in the tasting room this Sunday from 1-5pm.
How long have you worked at Campos Family Vineyards? 
Since October 2017
Where did you go to school?
I grew up in Livermore and graduated from Granada High.
What did you study?
Finished cosmetology school at the Academy cosmetology in Livermore my senior year.
If you have another job, what is it?
Single mom and owner of Scraptacular Getaways hosting  scrapbooking retreats for 13 years.
Kids?
8 smart, beautiful, sweet, talented God fearing young women.  Kimberly-Ann 27, Annelise 25, Simone 23, Monique 21, Sienna 18, Lisette 16, Brielle 12 and Ellycia 8.  I have one Son-in-love Scott 30 and a perfect granddaughter, Raelynn 6 months old
Any animals?
NO!! I am barley keeping my children alive…I don't need one more living thing to care for!  The closest thing to a pet in my world is succulents.
What do you love about working at Campos Family Vineyards?
EVERYTHING AND EVERYONE!!! I get so excited every time I drive through the gate. I love the atmosphere…I love the inspiration…I love that they invested in me to be my best through personal and product education…I love that they value family and I LOVE serving guests.
What is your favorite Campos Family Vineyards wine?
Really??  That's like asking which is my favorite child!   If I have to pick one I would say Petite Sarah
Favorite non work past time?
Working out, dancing, speaking, encouraging people, listing to podcasts, entertaining and being challenged.
What is a fun fact about you?
I was on the "Dating Game".  I filmed the show right before I started dating my late husband and went on the date with the contestant to Disney World in Florida while we were in the beginning of our relationship.  I ran out of money and Jeff had to Western Union me money so I could get back. (no Venmo back then). No wonder it took him three years to marry me!!