An Evening with Dr. Temple Grandin
Details
Date:
November 28
Time:
03:10 am
"A Different Kind Of Mind"
Dr. Temple Grandin has served as inspiration and role model to hundreds of thousands of families and persons with autism. In this unique presentation, Temple eloquently and candidly describes the challenges she has faced and offers no-nonsense ideas on how others dealing with autism can meet these obstacles and improve the quality of their lives. Backed by her personal experience an evidence-based research, Temple shares her valuable insights on a wide variety of topics, and offers useful do's and don'ts. 
4:45pm, Doors Open, Book Purchases, photos and signing with Temple
5:45pm – 7:45pm, Temple will speak
7:45pm – 8:45pm, Book Signing & Photos
Food & Beverages will be available for purchase. 
Food Trucks available for purchase. Seating will be in rows. First come first serve. Groups will be reserved together. 
**A portion of ticket sale proceeds will be donated to the Temple Grandin-Eustacia Cutler Austim Fund.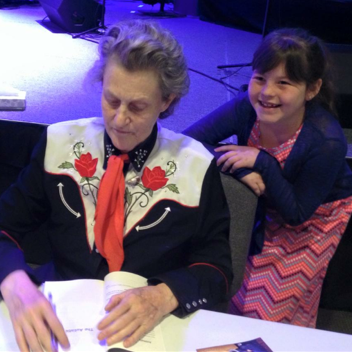 We will be selling our Estate Wine, Gigi's Blend during this event! This is a blend of our Cab Franc, Barbera, Zinfandel and Petite Sirah grapes. This wine is close to our hearts as it is named after our Granddaughter Gigi, who has Aspergers (pictured above with Dr. Grandin). A portion of the sales of every bottle sold will be donated to The Temple Grandin Equine Center at The Colorado State University. 
From the Temple Grandin Equine Center at Colorado State University:
"There are many conditions of mind and body that can be related by animal-human interaction. At Colorado State University, we aspire to create a new home for equine-assisted activities and therapies, a place where individuals with physical, emotional and developmental challenges can heal, where therapists can treat, where students can learn, and where scientists can research.
The Temple Grandin Equine Center will celebrate and elevate the role of the horse in society through the physcial and emotional benefits of serving those in need. THEC will integrate research and education in order to promote evidence-based practices of EAAT. TGEC will work for the betterment of horses and humans alike."
NO Refunds given for this event.