A Stunning, Private Venue for Your Northern California Wedding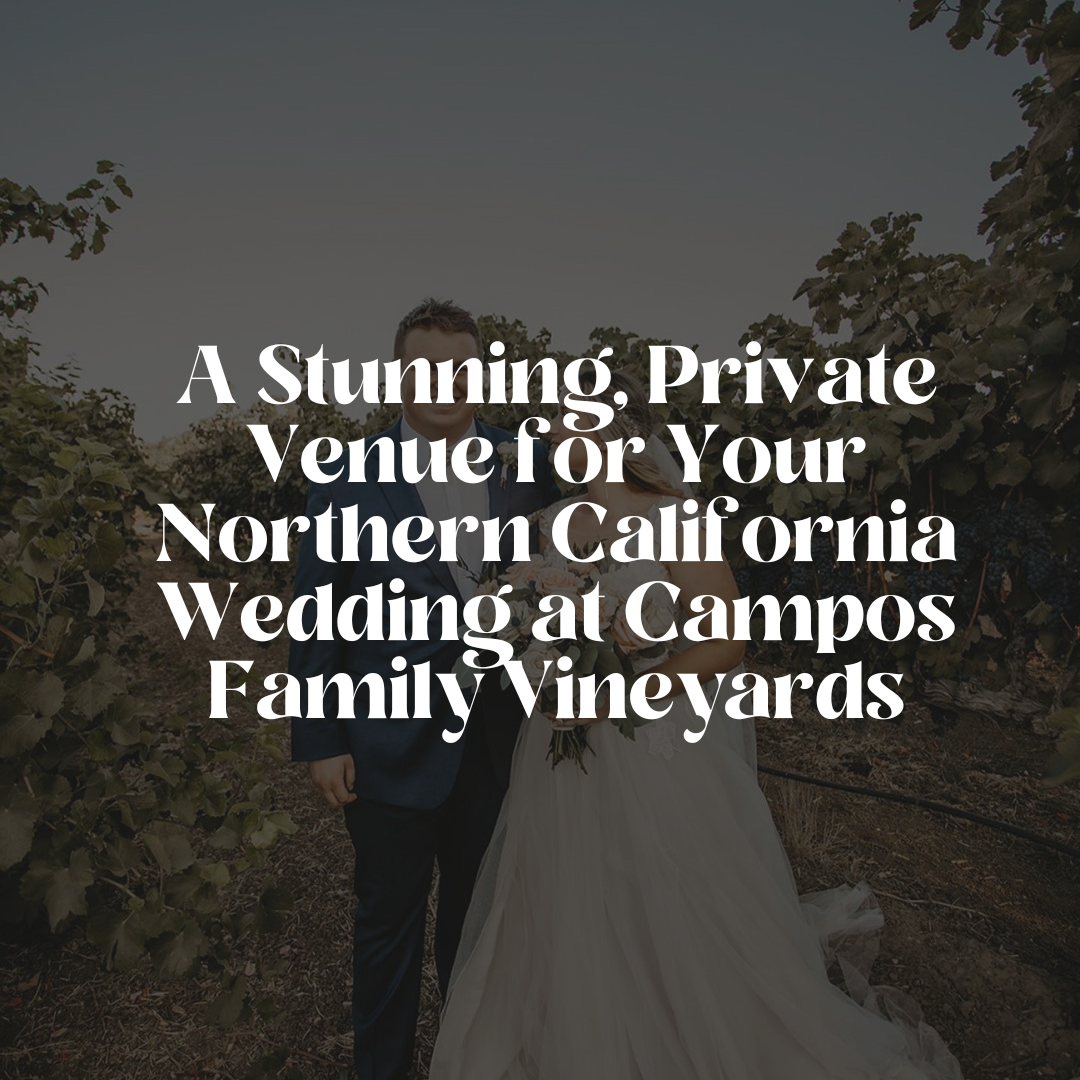 Your happily ever after begins here.
Welcome your guests to the serene setting of Campos Family Vineyards, a private venue surrounded by natural beauty. Our 13,000-square-foot event center and 44-acre estate with breathtaking landscape views make our winery the perfect spot to say "I do."
Located within easy reach of both San Francisco and Sacramento, Campos Family Vineyards is the perfect choice for couples seeking a luxurious yet accessible location.
Whether you're planning something small and intimate, or a mid-size event with up to 150 guests, we're here to help you curate a romantic and memorable occasion.
Of course, you'll also be able to enjoy our premium-quality, award-winnning wines.
Our packages include:
Vintage
Promise your love with our Vintage Package, which includes a beautiful ceremony arbor, tables and chairs, use of our vintage truck for memorable photos, parking attendants and security, use of our venue for engagement photos and rehearsal, a wedding coordinator, and staff for setup and cleanup.
Starting at $11,000
Estate
Romance is in the air with our Estate Package. This option includes everything in our Vintage Package, plus our Preferred Beverage Package with your choices of award-winning wines, a bartender for up to 150 guests, and a professional DJ/MC.
Starting at $15,000
Reserve
Our most inclusive option, the Reserve Package is for those who want us to simply take care of it all, so the only thing you have to worry about is absorbing the most out of your special day.
Our Reserve Package includes everything in our Vintage + Estate Packages, plus custom-tailored catering from our preferred caterer.
Starting at $23,500
Micro Wedding Options
Little White Chapel
Just because it's a micro wedding doesn't mean it's not a macro occasion. Our venue has just what you need for your cozy, intimate ceremony. With our "Little White Chapel" package, you'll get use of the ceremony site for 30 minutes, a cake provided by Speak Easy, a bottle of Campos bubbles, use of the property for a photo session, and a wedding coordinator and staff.
Elopement Package
For when you're between "Let's just go to the courthouse" and "We still want to do something special." Throw out the wedding rulebook and get hitched at our winery with our Elopement Package. You'll receive everything in the Little White Chapel Package, plus a romantic picnic for two.
Contact us
Take a virtual tour and read more about our packages here.
"We just had a wedding there… Beautiful setting, wonderful atmosphere. Thank you so much for treating us like family from the moment we walked onto your property." -SC