Food & Wine Pairing Tips for Beginners
We love wine around here. We also love the flavor explosion that comes when it's perfectly paired with a great meal. But we know that when you're a beginner, it can be confusing trying to figure out what flavor combinations work best together. 
When you're considering a wine pairing, your very first step should be identifying the main components of the food. Is the dish heavy or light? Spicy or mild? What is the main flavor profile – sweet, sour, salty, fatty? How about the wine – is it full-bodied or light? High or low in acidity? Fruity or earthy? Knowing these things will make figuring out what combinations go together much more straightforward. 
After you've figured out the main flavor profiles, here are a few simple guidelines to keep in mind:
It's all about

balance

. You don't want your food to overwhelm your wine or vice versa. Pair a heavy dish with a heavy red. Pair a lighter dish with a lighter red. This leads us to our next point…

If the adjective is the same, they'll probably taste excellent together. Red meat + red wine. Sweet dessert + sweet wine. White meat + white wine. Acidic dish + acidic wine. You get it.

Opposites attract! Try pairing a sweet wine with a spicy dish. The sweetness will coat your tongue and allow you to fully taste the flavor of whatever you're eating. Or white wine with something salty. God's gift to Earth was champagne and french fries.

There may be a lot of flavors happening in your dish, so always pair the wine with the dominant element (seasonings, sauces, or the main ingredient). For example, pinot grigio would taste excellent with chicken alfredo. But a light pinot noir might be a better complement to chicken marsala. 

If you're pairing a sweet wine with dessert, try to find a wine that's sweeter than the food. Otherwise, it will taste flat and awful.

Acidic wines are versatile and can go with almost anything – use them! Sauvignon Blancs and Chardonnays are popular higher-acid wines. Or, when in doubt, choose a sparkling.
6 Pairings We Think You'll Love
If you just want someone to tell you exactly what to do, look no further! Here are 6 of our favorite, tried-and-true pairings. 
Sparkling Rosé + Burger & Fries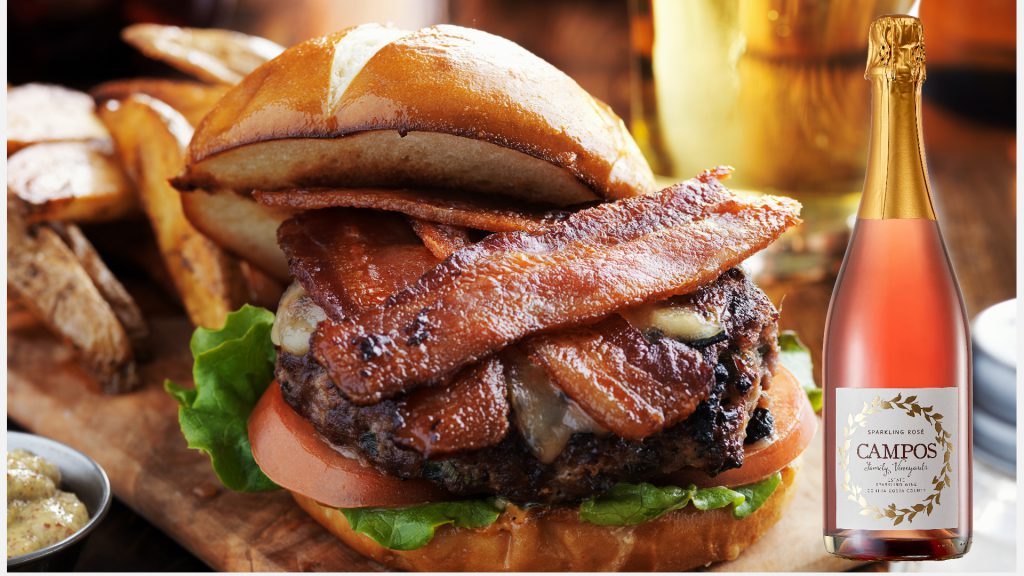 Campos Family Vineyards' Sparking Rosé is our best-selling wine, and at first sip, you'll understand why. This versatile wine is floral and bright, with dominating flavors of strawberry and raspberry. Not only does Rosé and a burger scream "summer," but the acidity in the Rosé cuts through even the richest and fattiest of patties. 
Gabriel Barbera + Soleil Wood-Fired Pizza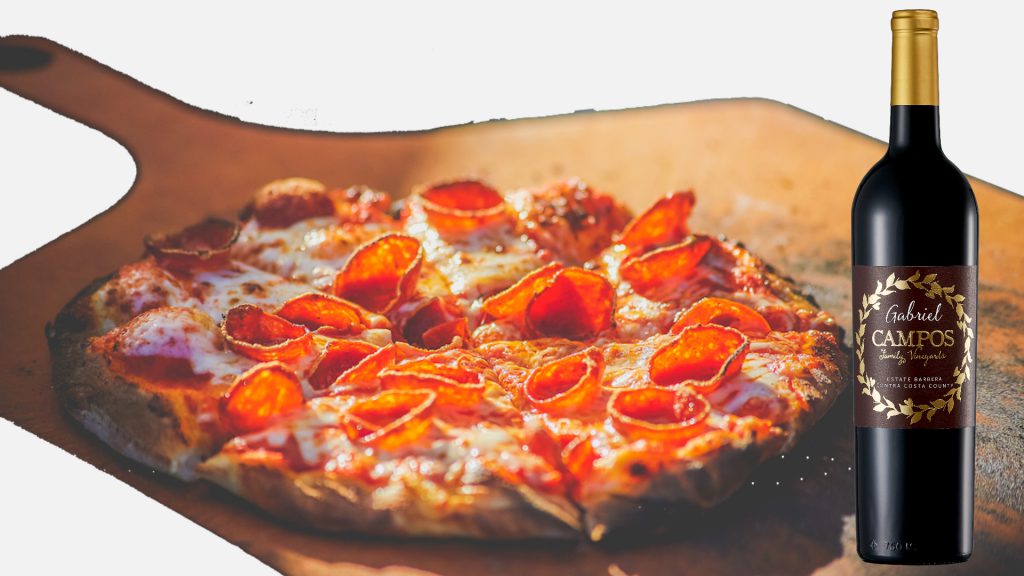 Our Gabriel Barbera is a stunning expression of the classic Italian varietal. A California State Fair Best of Class award winner, this medium-bodied red leads with a silky, violet bouquet that explodes on the midpalate with peach, blackberry, and strawberry flavors. With its deep, ruby color, fruit-forward palate, and well-balanced tannins, it's no wonder Barbera is quickly becoming Campos Family Vineyards' flagship grape. This Barbera is super versatile, with enough acid to pair with almost any dish – but we like it best with a fresh Soleil Wood-Fired Pizza. 
Dolce Vino + Bumblequeen Catering Charcuterie Box 
Sunshine in a glass, Dolce Vino is a beautiful floral blend of Chenin Blanc and Muscat. Notes of honeydew, dried persimmon, melon, and light citrus jump from the fruit-driven palate. It's floral, it's feminine, and it's perfect to "Cheers!" at a boozy brunch with friends or a sweet way to say goodbye to a summer day. The acidity and sweetness in the Dolce Vino are a delicious compliment to creamy, rich cheeses, like the ones in a handmade charcuterie box from Bumblequeen Catering (available for pre-order in our tasting room!). 
Sauvignon Blanc + Vin Alegro's Farmers Daughter Sandwich 
Our Sauvignon Blanc is a bright, stainless-steel fermented wine with a crisp taste and fruit-forward flavors of honeydew melon, peach, and vanilla. High in acid and low in sugar, this lively, crisp, slightly sweet wine will leave you wanting another glass. The flavors pair perfectly with the pesto and grilled vegetables in the Farmer's Daughter Sandwich from Vin Algero (available for pre-order in our tasting room!)
Revival + Cherry Tomato & Garlic Pasta
This beautiful, unfiltered Estate Cellar blend of Mourvèdre and Barbera boasts a berry-infused aroma with an earthy, straight-from-the-barrel finish. The savory flavors of Mourvèdre beautifully complement the fruit-forward qualities of Barbera. Revival is a deep, ruby red wine that's elegant and full-bodied with well-balanced tannins. The acidity in this wine and the acidity in a dish like cherry tomato and garlic pasta is a match made in heaven.
Lou + Grilled Steak
Lou is a multilayered yet well-balanced red blend of mostly Zinfandel and Barbera with a touch of Petite Sirah. Cherry blossom and earthiness greet the nose, followed by vibrant flavors of dark cherry and spice mid-palate. The aromatics and boldness of this dynamic red will pair well with any rich, fatty food – especially a grilled steak.
The "too long; didn't read" version is: wine should be fun, and you should eat and drink what you love. Don't worry, you'll likely never get a flavor combo that tastes like orange juice and toothpaste. So relax and let this be a fun experiment to figure out what you like best!
If there's one thing Campos Family Vineyards knows well, it's food and wine. We'd love to answer any pairing questions you might have! Send us an email at [email protected].