Happy 63rd Birthday to Dwight Clark
On January 8, 2020, Dwight Clark would have turned 63rd. Dwight Clark was the receiver who made one of the most memorable plays in the NFL history known as "The Catch", kickstarting the San Francisco 49ers' dynasty. He passed less than one year after he was diagnosed with ALS (Amyotrophic Lateral Sclerosis).
In honor of his birthday, we are sharing this performance of Working in A Coal Mine by Huey Lewis & Dwight Clark.
Why the Fight Against ALS is Important to Campos Family Vineyards?
Campos Family Vineyards and The ALS Association Greater Sacramento Chapter are launching a new Give Back Series blend in memory of Campos family friend, Patrick "Quinny" Ornellas, who lost his battle with ALS, also known as Lou Gehrig's disease, ten years ago. It is our shared hope to hold this annual event to raise awareness and support for families living with ALS across Northern California. ALS is a terminal, neurodegenerative disease with no known cause or cure. Veterans are twice as likely to be diagnosed with ALS. The average lifespan after diagnosis is 2-5 years. Every 90 minutes someone is diagnosed with ALS, and every 90 minutes someone loses their battle with ALS. The ALS Association is the only nonprofit dedicated to fighting ALS on every front, and your support of events like Country Fest to Beat ALS is vital to fulfilling their mission. Through the services and compassionate care ALS provides, the policies they advocate for, and the global research they fund, they will fulfill their vision of a world without ALS.
What is ALS?
ALS was first found in 1869 by French neurologist Jean-Martin Charcot, but it wasn't until 1939 that Lou Gehrig brought national and international attention to the disease. Ending the career of one of the most beloved baseball players of all time, the disease is still most closely associated with his name. Amyotrophic lateral sclerosis (ALS) is a progressive neurodegenerative disease that affects nerve cells in the brain and the spinal cord. Motor neurons reach from the brain to the spinal cord and from the spinal cord to the muscles throughout the body. The progressive degeneration of the motor neurons in ALS eventually leads to their death. When the motor neurons die, the ability of the brain to initiate and control muscle movement is lost. With voluntary muscle action progressively affected, patients in the later stages of the disease may become totally paralyzed.
How Can you Help Us Fight ALS?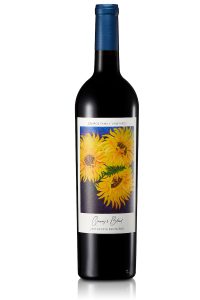 This delicious blend of Estate Mourvedre, Barbera and Cabernet Franc has been made in honor of Pat Ornellas, fondly known to many as Quinny, who lost his battle with ALS. He was a passionate high energy man with a zest for life, but above all else — he was a fighter. The Lord put it on our hearts to continue the fight against ALS, to raise awareness and increase funding to fight this horrific disease. We invite you into our tasting room to purchase a bottle of Quinny's Blend, to help us support ALS.
*A portion of the proceeds will be donated to the ALS Association